I am thrilled you have decided to stop by. I take great pride in updating my blog regularly as I love sharing my life and my creative addictions with you. I live in Irving, TX and am excited to share our wonderful products with you! Please let me know how I may service you!
Team Breakfast at the Disneyland Hotel in June 2015. We celebrate at Disneyworld in June 2016!
I am originally from Silver City, New Mexico where I first attended a Close To My Heart Gathering. I attended the event out of guilt... My mom had been invited to attend a "stamp party" and she and I both assumed it was for postage stamps! She wanted to support the woman who had invited her and I didn't want to make her go alone, so I went...and I returned a changed and ADDICTED person!
My Mom and I in Anaheim, CA! She was my first team member many years ago and is still with me!
Being a full-time public educator, I especially loved the idea of being able to make inexpensive gifts for my staff, students, friends and family members! I also love the various things I can do with the same supplies, making my purchases very cost effective. Almost 17+ years later, I still love the quality products I represent and have not been bored a day since!
---
Benefits of Joining Close To My Heart:
The #1 benefit of joining this company, even before the products (which are absolutely fabulous), are the wonderful friends I have made. My dearest friends are those I have met through this hobby, whether fellow Consultants or customers.
Here we are in San Antonio, December 2015, at a Close To My Heart training.
I enjoy scrapbooking and stamping in the company of good friends and have made many over the past 17 years. I enjoy seeing them at various corporate events throughout the year and celebrating with them each summer at our annual Convention.

There are opportunities to achieve various levels of Leadership in the company, which increases your income level. You also can earn various all-expense paid Cruises and be recognized for various accomplishments.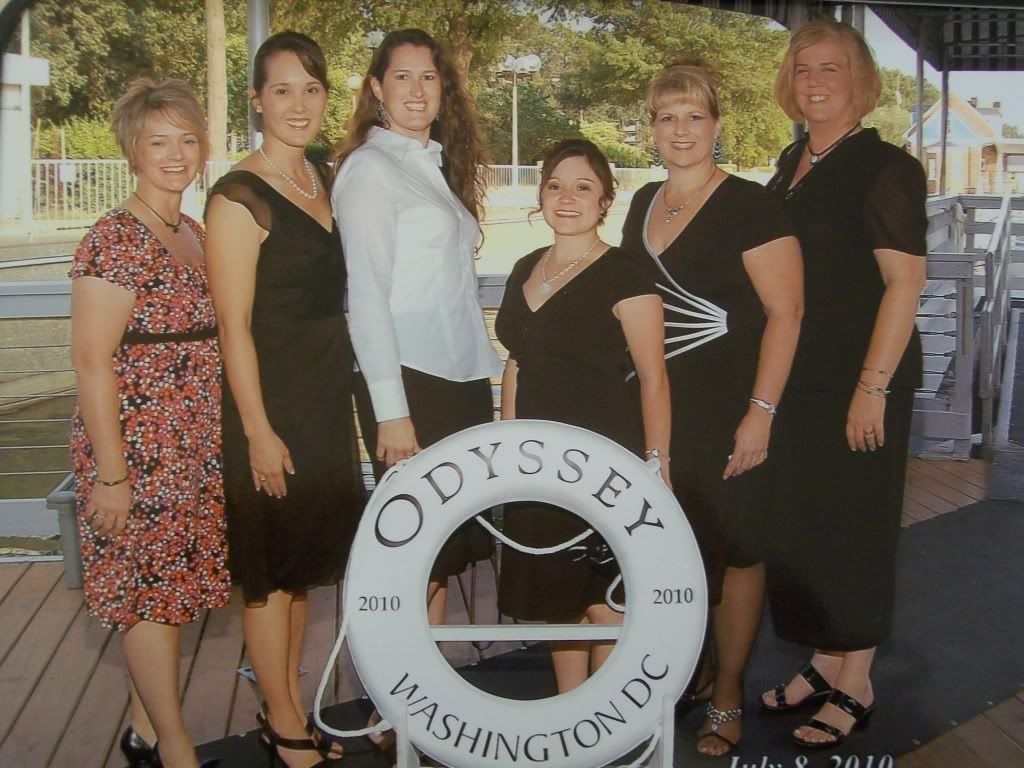 Directors were treated to a dinner cruise on the Odyssey on the Potomac River at our 2010 Convention in Washington, D.C.
---
How You Can Join My Team and This Company:
The cost to join Close To My Heart and my team, The Heartfelt Sentiments, is just $129! For the $129 you will receive more than $455 worth of items - paperwork and product items - which will get your business off to a great start! I am happy to answer any questions you may have about this opportunity. Click
HERE
to view the current Consultant Kit and details of its' contents.
This is a photo of the contents of the Consultant Kit, containing new products, that was released December 2015.
There are many benefits to owning your own business including: all expenses being a tax write off (yes, you can scrapbook without any guilt), purchasing scrapbook/stamp supplies from yourself at a discount, working around your family and other obligations, and contributing to the household fund - or funding it! There's room for everyone whether you plan on supporting your hobby or want to make this a full-time business! You will be provided ample training much of which can be completed from the comfort of your own home.
Heartfelt Sentiments team members at Close To My Heart's 2015 National Convention at the the Disneyland Hotel.
To join this company and my team, just click
here
and enter in the required information. Be sure to save the username and password you select as you will need them to access the company website (the Consultant's side) once you are approved. If I can provide you any additional information, please don't hesitate to contact me!
---
I am passionate about what I do and love sharing Close To My Heart with others! Let me know how I may serve you. Thanks for stopping by and I look forward to hearing from you! Have a blessed day!
Heartfelt,